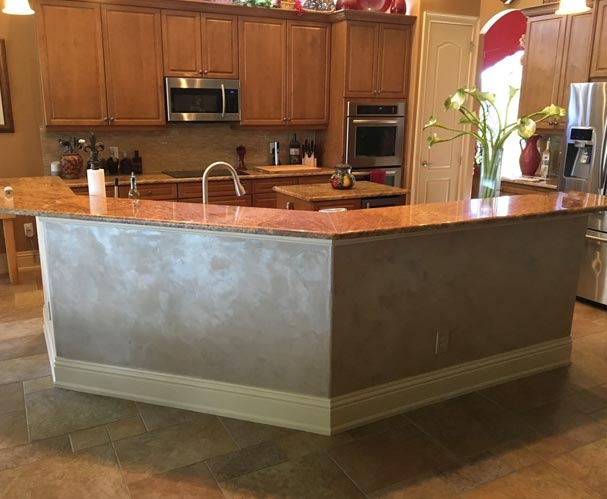 Transform Your Home or Business With Faux Finishing
You can rejuvenate your home with the best faux painting techniques, custom decorative painting, and faux finish paint by choosing ZDecor, LLC!
For years, we have provided the most trusted decorative painting services in the area. Our specialized faux painting services are offered in a variety of designs and materials. From faux wood to faux marble, we can do it all.
We breathe life into outdated interior designs through our artistic designs and finishes. A decorative finish can add immense depth and beauty to your plain white walls or ceilings. We specialize in decorative faux finishing for interior or exterior walls on all types of residential and commercial properties.
To request a consultation about adding faux finishing to your home or business, please call us, text us, or fill out our online form.
Breathtaking Faux Finishes for Any Room
The most common method is a sponge faux finish. We do this by mixing colors and glazing them on the wall with an all-natural sea sponge. This can easily add dimension to any room.
We provide a wide variety of breathtaking faux finishes for any room.
Murals
Trompe l'oeil
Color glazing
Wall washing
Venetian plaster
Restoration
Textures
Marbleizing
Wood graining
Gilding
Stenciling
Antiquing
Distressing
Marble walls are extremely elegant and allow for a refined style in your room. A faux finish wood grain is ideal for contemporary styles. Other methods that we use, such as lime washing, give your walls a distinctive aged look, almost like limestone. We provide many other decorative finishing services that can beautify your home.
Whether you choose a marble or wood grain faux finish, a metallic decorative paint finish, or even Venetian plaster, your space will look wonderful.
Unlimited Decorative Possibilities
At ZDecor, we're the experts in modern faux finishing techniques. Our faux finish painting transitions effortlessly from one surface to another and one color to another.
There are no limits to what ZDecor can provide. If you can dream it, we can make it real. We can modernize your home's appearance with faux finish painting. We can transform your walls and ceilings with modern layouts, artsy patterns, and edgy textures. We can bring a fresh look to your home's décor.
Our professionals utilize the best faux finish painting techniques and produce trendy and impressive results — every time.
ZDecor is very eager to work with you. We are extremely proud of our craftsmanship and dedication to faux finish and decorative painting techniques. We offer professional services with the use of our innovative top-quality materials and techniques. Our team takes extra care in preparation, application, finishing, and cleanup.
We can transform the interior of your home, within budget and on time. Let us bring new color, depth, and attitude to your home.