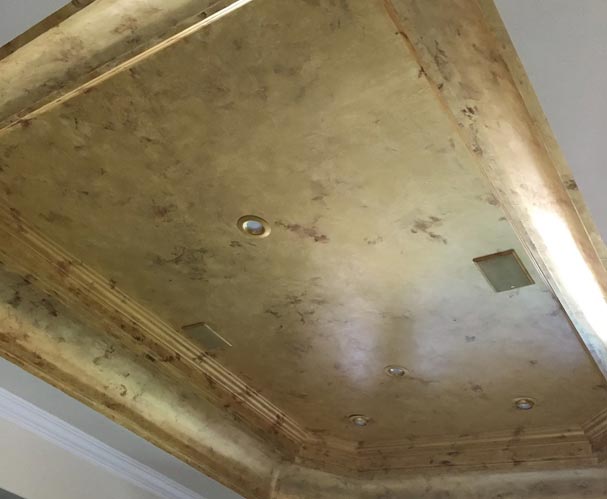 Creative Finishes Add Extra Charm to Your Home
When it comes to gorgeous finishes, you can rely on ZDecor, LLC for the very best. We provide a wide variety of creative finishes that make your home or business look amazing. To request a consultation, please call us, text us, or fill out our convenient online form.
Venetian Plasters
Authentic Venetian plaster will transform any room in your home or business into a one-of-a-kind work of art, imparting a sensuality of texture and color that is impossible to achieve with paint or faux finishing. Venetian plaster is mainly used internally on walls and ceilings to give a finish that looks like polished marble.
Textured Finishes
Textures convey many different architectural impressions. With the right materials and application techniques, it's possible to create unique textured surfaces. We offer a wide range of textured finishes to achieve a range of styles from ultra-smooth to rugged and coarse textures.
Metallic Finishes
Surround yourself in luxury with the luster of metallic finishes. We work with metallic paints, composition metal leaf, and genuine gold and silver leaf. We create patinas with paint or chemical solutions.
The captivating qualities of these reflective finishes, combined with fashionable jewel tones, provide a sleek appearance that will instantly dress up any space. We offer a radiant collection of metallic finishes for your living space.
Custom Finishes
We can match a wall finish that you already have or create something completely new for your home or business with limitless options for color, texture design, and application.
Molding Finishes
We have the ability to create or match any kind of molding finish that you require. We offer unlimited design, style, and color combinations for your home or business project.
Marbling
Marble walls are extremely elegant and allow for a refined style in your room at an affordable price.
Wood Graining
This faux finish goes great with your existing décor. Creating a faux finish wood grain is ideal for contemporary styles.
Other Finishes
"Old World" finishes
Embedded tissue paper
Handmade torn papers (an excellent alternative to a wallpaper)
Gold leafing
Many, many more